Origami Mini Crib
Portable crib for newborn to 18 mos.
Introducing the Origami Mini Crib from Babyletto, a portable mini crib with a petite footprint and rolling feet to allow for easy movement throughout the home. Made with sustainably sourced solid New Zealand pine wood, it features geometric lines and a clean design, and is perfect for small spaces, urban living or grandparents' house. The Origami allows a perfect fit for our 100% breathable mini crib mattress. A foldable frame with removable, locking caster wheels facilitates easy storage and transport.
Frequently Bought Together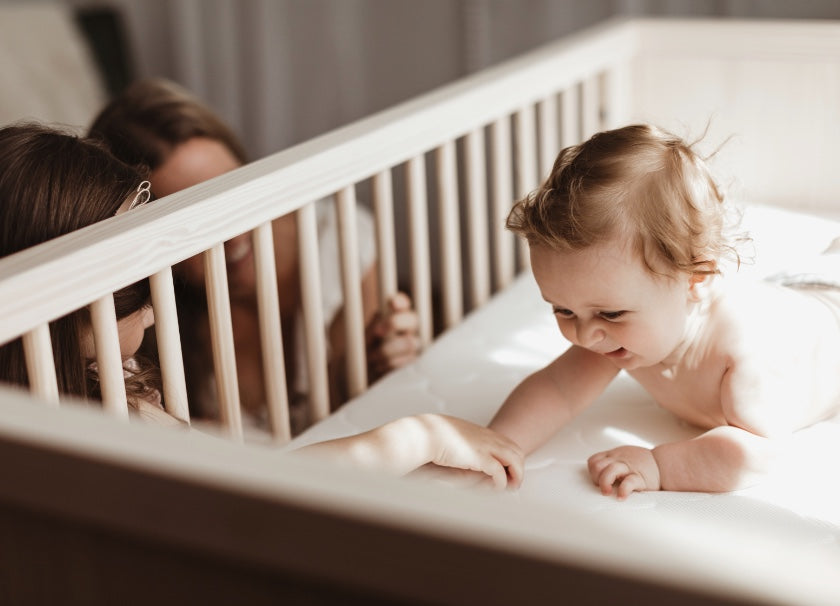 Top Origami Crib Questions
Is there a height limit for the Mini Crib use?

Yes, for their safety, it is recommended your little one stops using all cribs when they reach 35" in height or when they begin to climb (whichever comes first).

What is important when buying a crib? 

When searching for a crib, ensure that it meets (and, hopefully, exceeds) all safety standards by looking for the Juvenile Products Manufacturers Association (JPMA) certification and Consumer Product Safety Commission (CPSC) seal. In addition, the crib slats should be no wider than two and three-eighths inches apart. If the slats are any farther apart, your baby could get a body part stuck in-between them. Stick with a crib that's brand new and has all of its parts intact, and register your crib right away. If the manufacturer recalls your baby's crib for any reason, they'll notify you and offer a replacement, a warning or a fix.