Hudson Convertible Crib
3-in-1 crib for newborn to 4 yrs.
Meet the Hudson 3-in-1 Convertible Crib from Babyletto, a versatile modern favorite featuring stylish rounded spindles, an open silhouette and angled feet. Made with solid New Zealand pine wood, it meets the highest safety and design standards and pairs perfectly with our 100% breathable crib mattress. Toddler bed conversion kit included.
Frequently Bought Together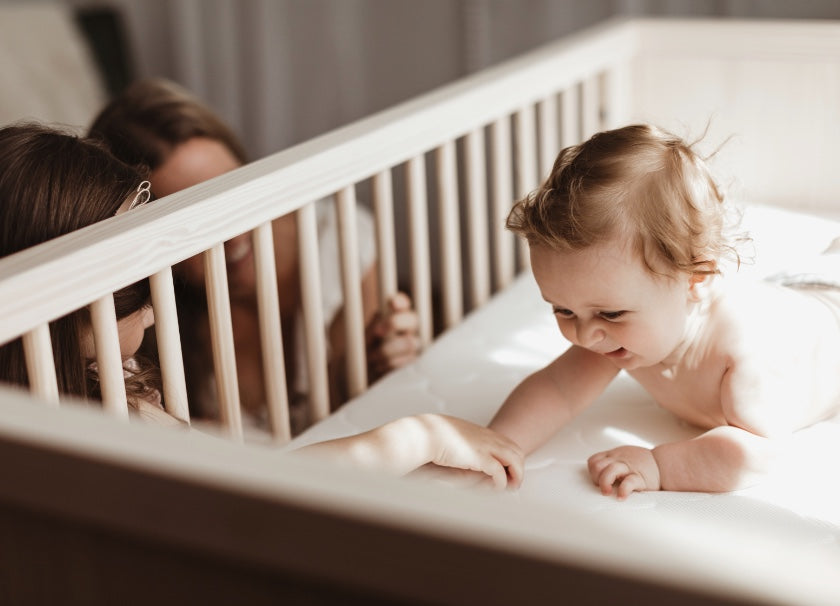 Top 3 Hudson Crib Questions
What size mattress is right for the Hudson Crib?

The Hudson is a standard size crib, and was designed to work beautifully with any standard size crib mattress. We recommend pairing the Babyletto Crib with the Newton 100% breathable and washable crib mattress for the safest, most comfortable sleep for your baby.

How long will my baby use the crib?

The Hudson Crib is designed to grow with your baby, offering years of longevity (newborn to 4 yrs, or 50lbs). The low-profile design allows you to easily put a newborn to rest. And with four adjustable mattress positions, you can lower the mattress as baby learns to sit and stand. 3-in-1 convertibility allows the crib to easily transition as they grow, from crib to toddler bed and daybed.

What is important when looking for a crib?

When searching for a crib, ensure that it meets (and, hopefully, exceeds) all safety standards by looking for the Juvenile Products Manufacturers Association (JPMA) certification and Consumer Product Safety Commission (CPSC) seal. In addition, the crib slats should be no wider than two and three-eighths inches apart. If the slats are any farther apart, your baby could get a body part stuck in-between them. Stick with a crib that's brand new and has all of its parts intact, and register your crib right away. If the manufacturer recalls your baby's crib for any reason, they'll notify you and offer a replacement, a warning or a fix.