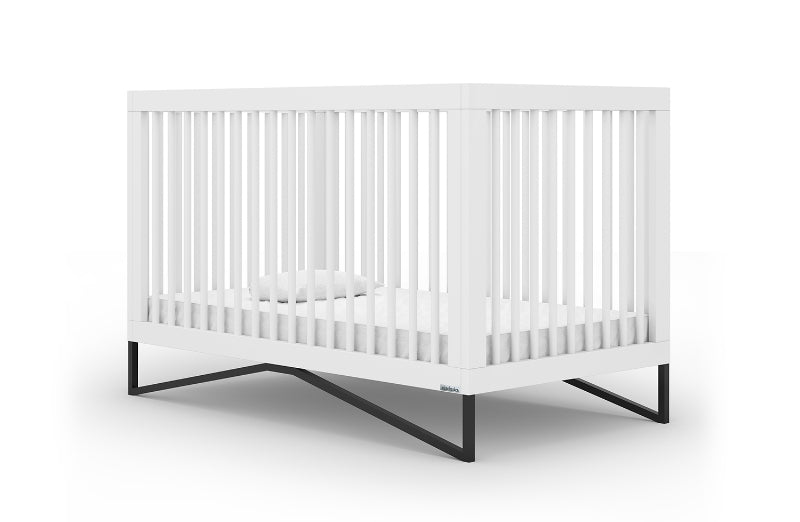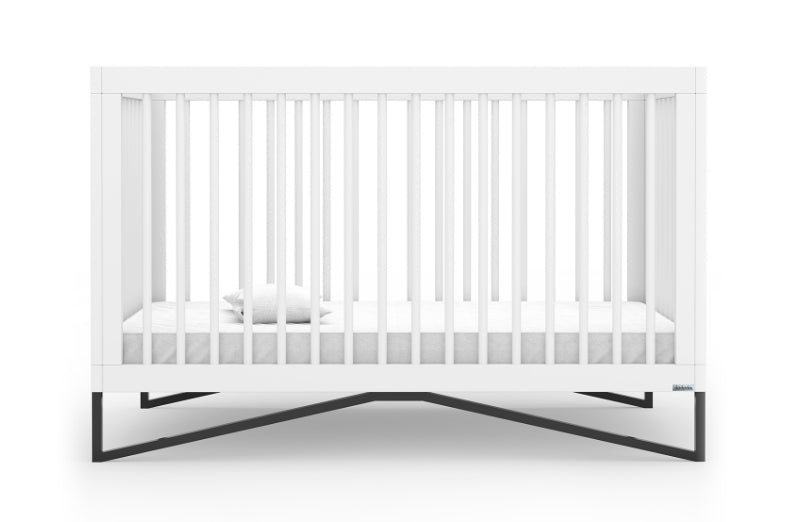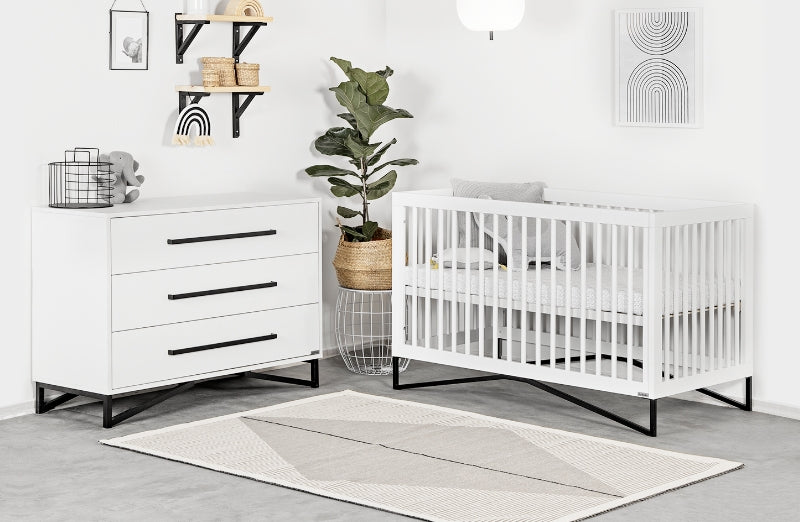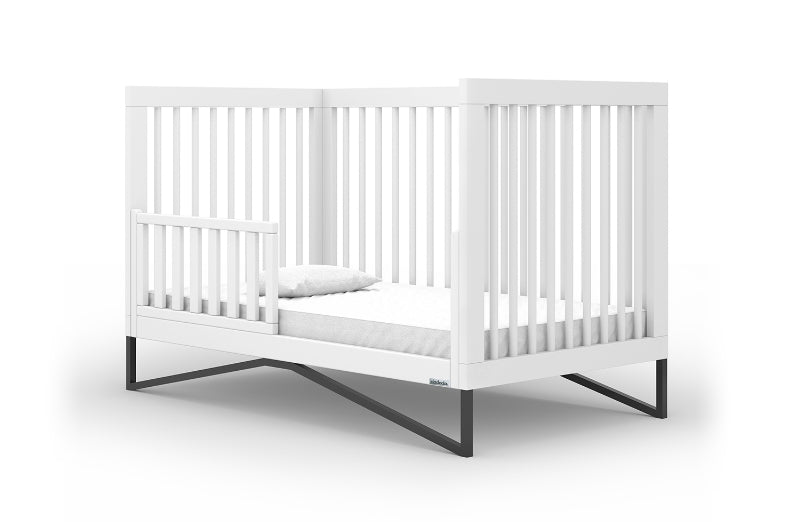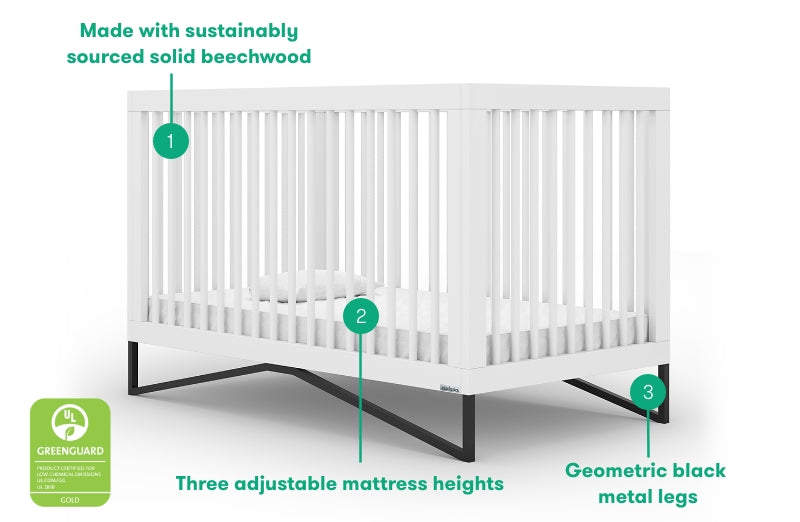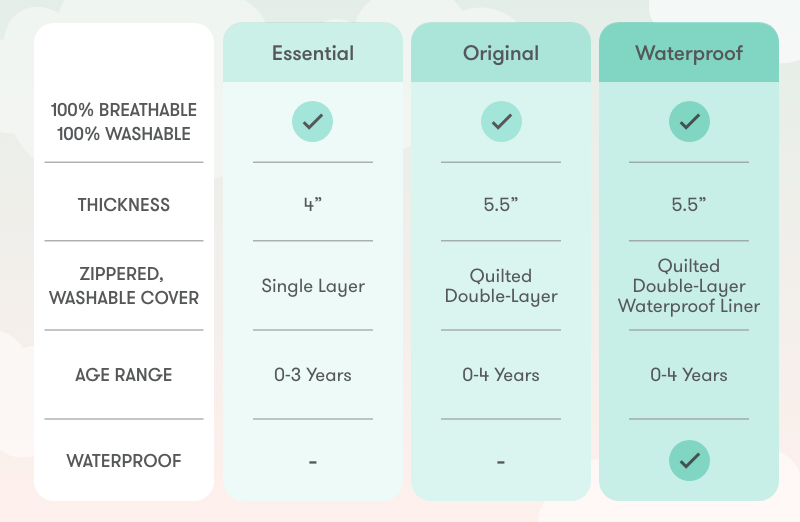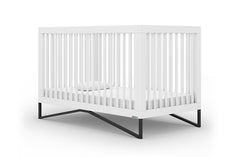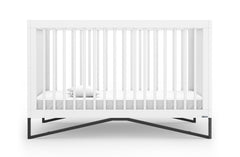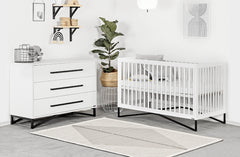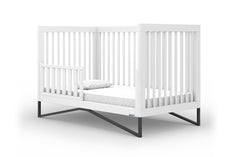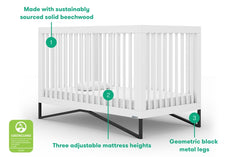 2,000+ 5-Star Reviews
Powering
Modern Heroes
We're providing peace of mind — for bedtime and beyond.
Our baby sleeps through the night because of Newton!
We purchased the Newton crib mattress for our 3 month old after extensive research. She absolutely loves the mattress and sleeps comfortably during her naps and at night. The mattress is very well designed and so breathable that I never worry about her now that she can roll to her belly. I love everything about this product including the washable covers. The soft pink is perfectly delicate and adds just the right touch!
I'm able to rest easy at night knowing she is on this mattress
I'm already so happy I have this mattress. She automatically became a face-planter and tummy sleeper. And I'm able to rest easy at night knowing she is on this mattress.
This mattress
gives me
a feeling of security!
This mattress is truly breathable. I love that it is easy to clean. Our reflux baby is finally sleeping well.
Product Details
Specs

Details

Durable and resilient, made from quality beechwood

Ethically constructed furniture to suit sustainably-minded parents

Meets or exceeds JPMA and Federal safety standards.

Crafted by the world's finest furniture makers since 1932, using state of the art production technologies and a team of skilled safety specialists to maintain strict control over the entire manufacturing process for safety and quality assurance.

Designed to fit Newton standard-sized crib mattresses.

Assembly required.

The adjustable platform base has 3 setting heights, measured from floor to platform: 18.11", 12.99", & 10.24"

Outer Dimensions : 55 x 29.75 x 36.25 inches (LxWxH) (when assembled)

Delivery

Ships by FedEx

Generally arrives within 4-12 business days

Testing and Certification

Tested in a third-party CPSC accredited lab for safety, lead, and other toxic elements to exceed JPMA, CPSC and ASTM safety standards.

GREENGUARD Gold Certified: Conducted through the UL laboratories, this crib has undergone rigorous scientific testing for over 10,000 chemical emissions and VOCs, receiving the highest standard of safety through GREENGUARD Gold certifications. Our crib contributes to cleaner indoor air, creating a healthier environment for your baby to sleep.

Care & Use

Crib:

Wash with warm water and mild soap only.

Avoid harsh cleaning chemicals on the wood finish.

Newton Crib Mattress:

Washing the Cover:

Washing the outer cover before first use is optional.

Cover zips off and goes right in the washing machine.

Be sure to leave the cover zipped for best results.

Wash alone, or with the encasement only to avoid damage to the fabric.

Wash on cold with a mild detergent.

Tumble dry on low heat. Dry thoroughly. DO NOT hang dry.

Wash the outer cover as often as you like.

Washing the encasement:

Clean encasement only if soiled.

Unzip and remove from core.

Zip fully closed prior to wash + dry.

Machine wash in cold water with detergent.

Wash together with outer cover for a balanced load. Wash without any other laundry.

Dry immediately in dryer on tumble dry low heat setting, allowing to dry thoroughly. DO NOT leave damp from wash; DO NOT hang dry.

TIP: The encasement is made with natural Viscose material which may develop an odor if allowed to remain damp (like a wool sweater). To refresh, add 1/2 cup baking soda to the wash.

Washing the core:

For the really big mess or just for seasonal cleaning, the core can be washed whenever needed.

Wash in the shower with soap & cool water or rinse outside with a hose.

Shake excess water out of core and stand-up to dry.

Place in well ventilated area for faster drying.

Avoid drying in direct sunlight and do not use heating elements to speed the drying process.
100-Night Free Trial
Try the Newton Crib Mattress for 100 nights risk-free to decide if it's right for you and your baby. If either of you aren't happy, simply return at our expense for a full refund.
Top 3 Crib Mattress Questions
Is your baby mattress organic?

While the Newton Crib Mattress is not organic, it is a safer crib mattress for your baby. Most "organic" baby crib mattresses aren't fully organic, but feature only one organic component, such as a cotton fabric or stuffing. . Our crib mattress is not only completely breathable to reduce suffocation risk but is also fully washable, making it the most hygienic sleep surface for your baby. Don't try that with one of the "organic" crib mattresses. Our products are GREENGUARD Gold Certified, so you can rest assured that they meet the highest standards for environmental safety.

Why a breathable mattress for baby?

A breathable crib mattress not only helps to reduce the risk of suffocation but also helps regulate baby's body temperature (that's right, no more sweaty backs!) and reduces dust mites and allergens. This allows babies to sleep more comfortably and longer through the night.

What is the crib mattress size?

Standard crib mattress sizes are regulated to meet a minimum sizing of 27 1/4" x 51 5/8" and not thicker than 6 inches. Standard crib sizes, while also regulated, can vary a bit based on construction. If a crib is labeled as a standard crib, Newton Crib Mattresses will fit nice and snuggly inside.